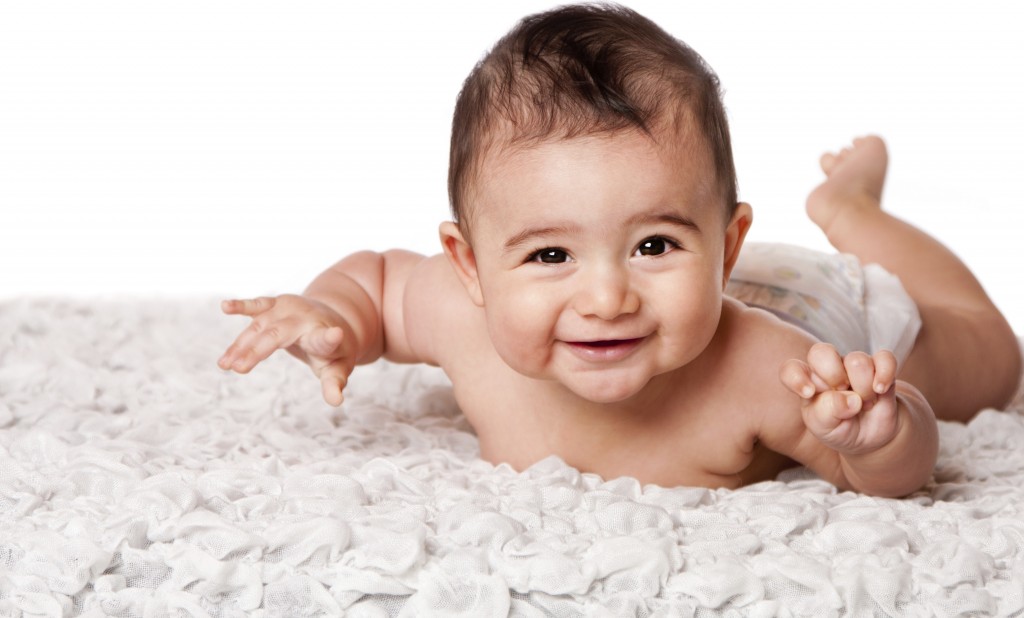 Although I've grown to love my name over the years, particularly because Lakshmi has a lovely meaning as the Goddess of prosperity in Hindu religion, (and I'm certain it gave me added character when I had to constantly correct people's pronunciation), 'Lunch meat' definitely wasn't the easiest name growing up.
Recently, New York Times columnist Alex Williams wrote an op-ed piece about the conundrum of choosing a baby name that's unique —  but not too unique —  and whether that was really possible anymore. Many parents can surely empathize with this situation, South Asian Americans especially.
The first day of every school year, I braced myself for the moment when the teacher would abruptly stop with a confused look on her face. After a long moment, she would take a deep breath and make the attempt…
"LAX-shmi…? LOCK-shmi…?"
As a mom now, I urge new parents to consider the impact your children's names will have on them each day, every day of their lives. The jury is still out on the measurable impact a name can have on a child's future, as seen in the Freakonomics debate. Regardless, whether it's the first day of school or the first time their resumé hits the desk of a prospective employer, your child's name will be the first thing to leave an impression. And not to be overly dramatic, but you have the opportunity to mold that first impression. So, when you're in the hospital holding the birth certificate application, please take an extra moment to consider the following:
1.  Is it easy to read and pronounce? If you can't answer yes to both of these, chances are that's your child's teachers, friends and employers will experience the same difficulty.
2.  Is it easy to remember?  If you can't remember the name or how to spell it, neither will anyone else.
3.  Does it sound like a Western name (or have a nickname that does)? An Anglo-sounding name will save your child much time and embarrassment from having to correct or repeat their name all the time.
4.  Could there be a negative connotation to the name or nickname? (If it rhymes or sounds like a body part, please reconsider!) Realize that kids can be mean and may tease other kids with funny sounding names.
5.  Does it have a cultural or family meaning? Even though we are advocating for an Anglo-sounding name for your American born child, it doesn't mean the name should be meaningless or without culture. Many South Asian names have significant history and meaning associated with them, and it would be unfortunate to lose this part of tradition.
With a little extra thought, you could make your child's life smoother and happier. Just to give you a jumpstart, we have 100 Indian baby names to inspire you.
Good luck, and above all, may your new addition be healthy and happy!
Remember, some of the baby boys names can also be used for baby girls like Taran, Kiran,  Arya, Devan and Kamran.
| GIRLS | MEANING | BOYS | MEANING |
| --- | --- | --- | --- |
| Aanya | Gracious | Ajay | Unconquered |
| Alisha | Protected By God | Aran | Forrest or Righteous |
| Anisa | Joy and Pleasure | Arun | Sun |
| Anita | Grace | Arya | Noble |
| Annika | Goddess Durga | Ashwin (Ash) | Of Great Wealth |
| Avani | Earth | Avinash (Avi) | Indestructible |
| Bela | Jasmine Flower | Bhargavan (Gavan) | Diety |
| Bina |     Intelligence |     Daman |      One Who Controls |
| Daya |     Kindness |     Damian |      Tamer |
| Devi |     Goddess |     Darun |     Lord Ganesha |
| Dhara |     Constant Flow |     Dasharath (Dash) |     Father Of Lord Rama |
| Divya |     Divine Luster |     Deenath (Deen) |     Lord Vishnu |
| Ela |     Earth |     Devan |     Little God |
| Elora |     Caves In India |     Devanand (Devan) |     Joy Of God |
| Geena |     Silvery |     Devendra (Deven) |     Lord Indra |
| Gia |     Essence of Life |     Hans |     Swan |
| Jaya |     Victory |    Jagan (Jag) |     Universe |
| Kali |     Goddess of Empowerment |     Jay/Jai |     Victory |
| Leela |     Divine Play |     Kalyan  (Kal) |     Welfare |
| Leena |     Devoted |     Kamran |      Success |
| Lily |     Flower |     Kanan |     Forest |
| Lola |     Goddess Lakshmi |     Keval |     Lord Vishnu |
| Marisa |     Worthy |     Kiran |     Ray Of Light |
| Maya |     Illusion |     Krishna (Kris) |     Lord Krishna |
| Meena |     Precious Blue Stone |     Milan |     A Coming Together |
| Meghana (Meg) |      Cloud |     Naveen |     New |
| Mira |     Prosperous |     Neel |     Blue |
| Monica/Monika |     Wise Counselor |     Niam |     Contribution Of God |
| Naina |     Eyes |     Nikhil (Nik) |     Complete |
| Nikhila (Niki) |     Complete |     Rahul |     Conqueror Of All Miseries |
| Nina/ Neena |     Lovely Eyed |     Raj |     King |
| Priya |     Beloved |     Ravi |     Sun |
| Reena |     Gem |     Rohan |     Ascending |
| Reya |     Goddess Lakshmi |     Sai |     Guru Sai Baba |
| Riya |     Singer |     Sameer (Sam) |     Wind |
| Roma |    Goddess Lakshmi |     Samir (Sam) |     Companion |
| Salena |     Moon |     Sanjay (Jay) |     Victorious |
| Sejal |     River Water |     Shailendra (Shail) |     King Of Mountains |
| Serena |     Quiet |     Siddhartha (Sid) |     Lord Buddha |
| Sharan |     Protector |     Sunil (Neel) |     Dark Blue |
| Simran (Simi) |     God's Gift |     Taj |     Crown |
| Siya |     Sita |     Tarak |     Protector |
| Sonia |     Wise |     Taran |     Heaven |
| Tara |     Star |     Tej |     Light |
| Teja |     Radiant |     Timir (Tim) |     Darkness |
| Trisha |     Wish |     Toshan (Tosh) |     Satisfaction |
| Uma |    Goddess Parvati |     Veer |     Brave |
| Vani |     Goddess Saraswati |     Vikram (Vik) |     Sun Of Valour |
| Veena |     Musical Instrument |     Vinod (Vin) |     Full Of Joy |
| Yasmin |     Jasmine |     Wali |     Protector |
You may also like --