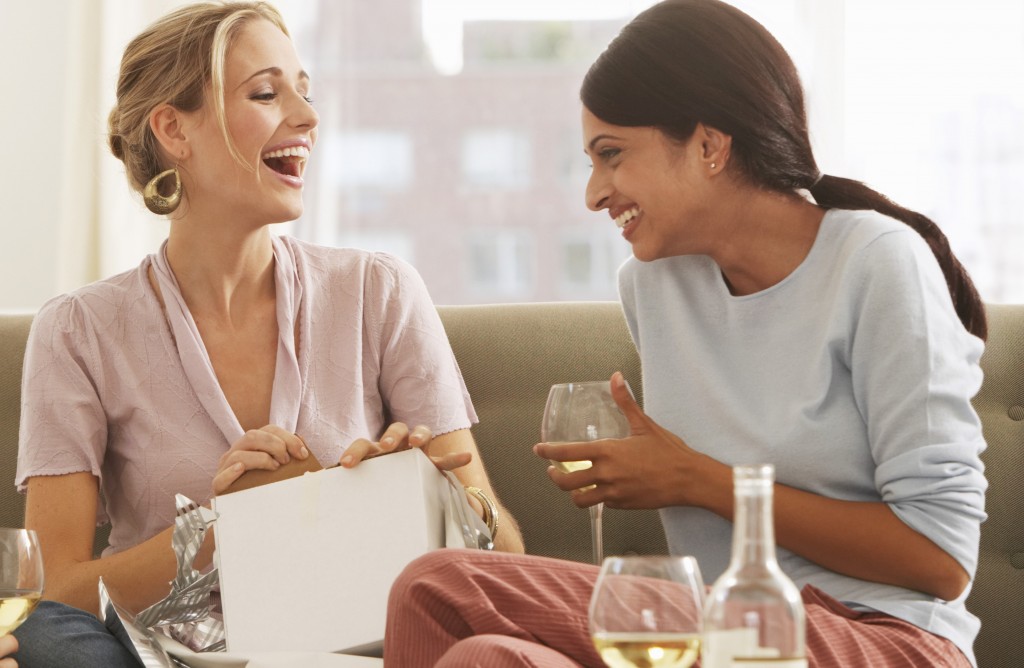 As the holidays approach and we get ready to gorge ourselves on holiday foods and drink, whether you are hosting a party or sharing holiday cheer at a friend's home, we wanted to share are a few ideas for trying to stay (moderately) healthy during all the festivities.
(1)    Eat before you go….
We often hear this… because it is good advice.  Snacking on some fruit and veggies or even indulging in a mini peanut butter sandwich before you leave home will send you to the party without an empty stomach.  If you are hungry when you arrive, all rational thinking may be left at the door and the candy and chips on the table may seem like the perfect way to stave off your cravings when you walk into the party.  If you don't have time to eat beforehand, at least be sure to drink a full glass of water.  Staying hydrated is just as important as eating to keep your energy at its full potential.
(2)    Club Soda can be your best friend
In addition to providing much needed hydration, club soda with lime, lemon or a splash of cranberry is a great way to keep stay evenly  paced during the evening.  Although sharing a fabulous glass of wine or a martini with your friends is fantastic, often, that glass can become bottomless if you are not paying attention as your celebrate.  Try to have your club soda 'cocktail' be your go-to for every other drink.  It is still festive and will help you feel better during the night and certainly the morning after.
(3)    Go nuts when you walk into the party
Actually, go to the nuts when you walk in the door.  Before reaching for the pigs in a blanket or mini-quiches, reach for the nuts. They are a great source of protein and can make you feel full.  More often than not you will find some nuts and/ or crudité within easy reach.  Make your first course of action to eat plenty of these healthful treats that are full of antioxidants before digging into the rest of the spread.  This way, you are likely to stop at just a few chips and dip because you will already be somewhat satisfied.
(4)    Gobble all the way
If you eat meat, turkey is a terrific food to fill your plate.  This holiday bird is chock full of antioxidants including selenium, which is good for your immune system.  The protein will fill you up and vitamin B is an added bonus. Although the veggies and other sides may seem healthy, often they are have been cooked with lots of butter, cream and sugar to dress them up for the holidays.   Be especially conscious when plating up your portion of deceptive sides.
(5)    Spice it up
If you are hosting your holiday celebration, consider mixing it up and adding a dish or two that have more of a spicy twist than your traditional American celebration.  When we grew up, people loved coming to our home for holiday parties because my mom would serve up traditional American fare (turkey and the trimmings) along with dishes like lemon rice and green beans sautéed with Indian spices like cumin seeds, mustard seeds and turmeric. You can even throw in a seafood dish for a healthful and delicious addition to your meal.  For appetizers, think outside the box with hummus and pita as an alternative to chips and dip or sautéed chickpeas in olive oil and parsley.  Mix up the holidays with global fare for an especially festive holiday for you guests.
(6)    Keep on movin'
Even if your workout routine has a hiccup because you cancel your evening yoga class for a party or miss your early morning spin because of a late night celebration, recognize that if you slip, all is not lost.  Many of us have a tendency to put working out on hold during the holiday because it is hard to 'do it all'.  This is the most important time to harness your willpower.  If you skip a workout, it is okay – don't beat yourself up, just accept it and make sure to get back to your routine the next day or as soon as you can.  The longer you go without your regular workouts, the harder it is to get back to the gym.  For those of you who don't have a regular fitness routine – think about adding some fun, healthy movement to your parties. Get on the dance floor for an extra song and burn some serious calories.  For the quieter office party?  Try standing instead of sitting.  During a 3 hour party, you can burn over a hundred calories more than sitting by standing. So party on and enjoy a healthier holiday in style with a bit less guilt for the new year.
You may also like --