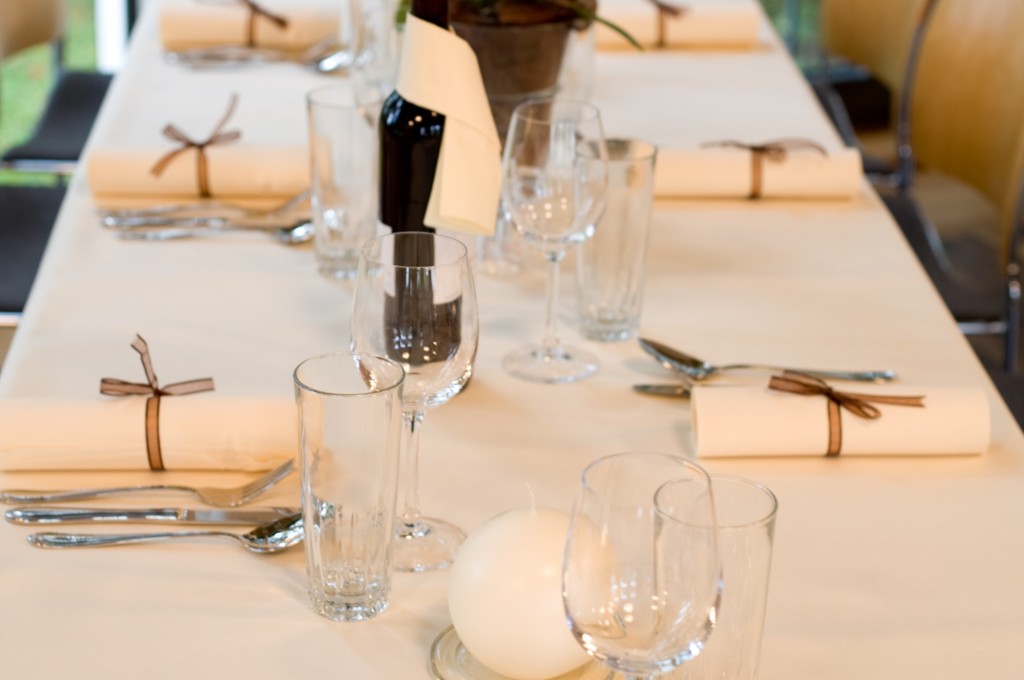 Whether you are planning a formal dinner party or simply hosting a drop in get together with some friends, entertaining at home is great way to connect with the people that you care about in a comfortable environment.  In fact, since having children, it has been our weekend ritual.  The kids entertain each other or crawl around on the floor (depending on their age,) while the parents sip glasses of wine.  But whether you have children or not, there is no bill to pay at the end of the night, and people have the option to come and go as they please.  Just remember that the key to hosting a successful get-together is to make sure that everyone, including you, has an enjoyable time.
Stress Free Entertaining Tip #1 — Make the Moves a Day Before
Move any required furniture and declutter your home at least a day ahead of time.  Cleaning up can be a big task and you don't want to find yourself in a rush because you left it to the last minute.  Remove clutter, clear space in the entry way for coats and shoes, and make sure there is plenty of room to sit and move around your home.  Try to anticipate which rooms your guests will be using, and store any of your belongings that might get in the way.  We live in a NYC apartment where the living room and dining area are joined.  For any more than six guess, we shift the table to the end (buffet style) and move the chairs over to the living area.  We usually pull the china out (yes, we actually use it) and set the table the day before, also.  It really does save time and energy the day of the party.
Stress Free Entertaining Tip #2 — Keep it Simple
There is no need to stress over complicated recipes and drinks, and don't be afraid to serve pre-made food.  There are also many appetizers that can be made a day ahead of time.  The key is to make sure that you are prepared before your guests arrive.  You company will have a hard time relaxing if they notice that you are overwhelmed.  Regardless of what we are serving, I often put out cut up celery and carrot sticks along side a bowl of my mom's (or store bought) Indian Mixture.  All of our guests love having a bit of an Indian treat with drinks, even if we are having pasta for dinner.  Mom not available to cater?  Try this great Chewda recipe from Aarti Sequeira at Food Network.
Stress Free Entertaining Tip #3 — Ask for Help!
Don't be afraid to ask for help.  If a friend offers to pour drinks or toss a salad, let them!  Allowing people to participate will put them at ease, especially if they are amongst new people.  It serves as an excellent icebreaker, and will allow you more time to spend with your company.  I am famous for having each guest stir the risotto for a few minutes.  20 minutes speeds by and you end up with a creamy delicious meal.
Stress Free Entertaining Tip #4 — Sharing is Not Just for Kids
Consider doing a potluck style party.  Preparing one dish is easy for most people, and it allows your friends to share new recipes and ideas.  There is always something for everyone, and the food tends to become to focus of the party.  Don't forget to provide take-out containers for your guests at the end of the night, so the leftovers don't go to waste.  And remember, people are excited to be getting together for a lovely evening.  They are happy to bring a dish.  People usually ask what they can bring — I tell one couple to bring dessert, one person to bring wine and one person to bring a salad.  An entree and a place to eat and you have a PARTY!
Stress Free Entertaining Tip #5 — Music Makes the Moment
Creating the perfect play list will set the tone and put everyone in the spirit of the evening.  Make you playlist ahead of time or use one of the many online applications to select the music for you.  This is usually my husband's responsibility while I prep for dinner.  Pulling the evening together yourself?  Ask a friend to to the honors.
Stress Free Entertaining Tip #6 — Cater to Your Crowd
Plan your event based on the needs of your guests. If there will be kids attending, make sure they have a place where they can safely play and stay entertained.  I take our some coloring books, white paper, child-proof scissors, pencils, crayons, etc.  This can keep kids entertained for hours.  Create a suitable outdoor space if you have guests that smoke or need to step out for some fresh air.  Have plenty of seating and conversation areas.  Try to anticipate any other special requests that your guests might have, so that you are able to accommodate them at short notice.  If you are serving a formal dinner, be sure to ask about any food allergies ahead of time.  Just in case, I usually keep a box of gluten-free pasta on hand.  I just add some crushed red pepper and a clove or two of garlic to a little olive oil over medium heat before adding some jarred sauce to make any vegetarian friend feel perfectly at home and just as special. It takes five minutes and no one is the wiser that you didn't have it all figure out before.
Stress Free Entertaining Tip #7 — Have fun!
A little preparation will ensure that you are having fun.  Your guests want to see you enjoying yourself as much as them.  By keeping it simple, planning ahead of time and accepting help, you will be a great host and enjoy your event just as much as everyone else.  Don't forget to take pictures to capture the memories, and make the most out of your evening.  If you make it seem easy, you may just have another friend give it a shot the following weekend!
You may also like --