I was never a huge fan of kale.  But my husband loves it and I am always looking for more nutritious foods that my kids are willing to eat.  Kale is considered a superfood and is packed with Vitamins K, A and C.  It is also known for its cholesterol cutting effects.
I heard a lot about 'kale chips' or 'crispy kale' for years.  The even sell it in the store now for $8 a bag or so.  Of course, I tried to make it but ended up with soggy baked kale (more than once.) Honestly, I was also a bit confused because I saw temperatures ranging from 250° to 500° when I looked at the many internet recipes out there.  But because I was determined to figure out what I was missing — I kept experimenting.
Foolproof Crispy Kale
After many attempts I have finally figured out how to make delicious kale chips.  I then wrote out step by step instructions for the 'tricks' to getting your kale crispy for my sister-in-law that has also shared my 'soggy kale' experiences.  I started with the recipe that I found was super helpful from Steamy Kitchen — Thanks, Jaden! Try it, I promise this will be yummy enough for your picky 4 year old or your steak-and-potato-loving brother.  Enjoy!
1 bunch of kale (if you want to use two bunches – bake them in two separate batches)
1 tablespoon of olive oil
sea salt to sprinkle afterwards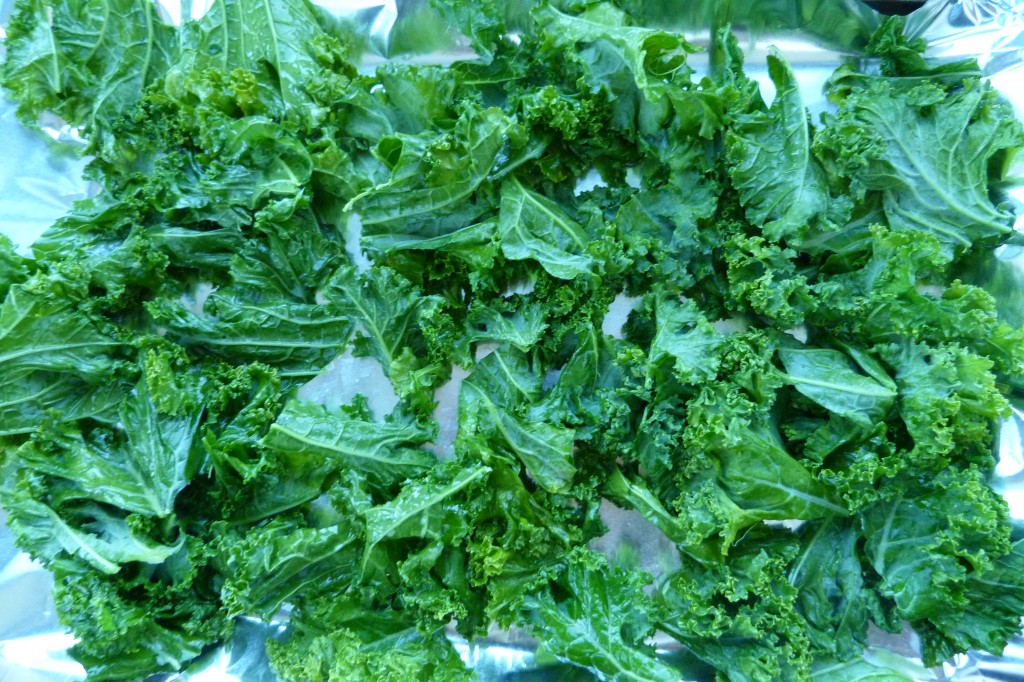 The Step by Step
Pre-heat your oven to 375°
(1) Cut the kale off the stems (the stems are tough).  You can pull them off by starting at the bigger end of the stem with your hands or use a pair of kitchen shears.
(2)  Tear or cut into large pieces (a couple inches each)
(3)  Throw in a gallon ziploc bag with the olive oil to coat (resist the salt here)
(4)  Spread this out on 2 baking sheets to make sure there is plenty of space for each kale leaf to crisp.
(5)  Bake them for 10 minutes – depending on your oven and the size you cut your kale — they may be done.  If not, turn them over and back for 5-10 more minutes.  (My oven takes 20 minutes total.)
(6)  Sprinkle with sea salt and enjoy!  You can also sprinkle with chili powder or Parmesan cheese for a extra punch in flavor while they are just out of the oven (before they cool.)
The Do Not Do List
(1)  DO NOT bake them with any moisture – use a salad spinner or even paper towels but make sure that your kale is very dry before putting it in your oven or you will 'steam' your kale not 'crisp' it
(2) DO NOT bake them with salt — my initial urge was to salt them when I oiled them –but the salt will bring out more moisture and you have a chance of over salting because it does not mix properly
(3) DO NOT bake multiple batches at the same time.  This will crowd the cookie sheets and the oven and you will steam your kale.
(4) DO NOT let the kale brown.  The kale will become bitter and not be quite as tasty.  Error on the side of under cooking if you are unsure.  Take them out of the oven when they are just crisping up.
(5)  DO store them in an airtight container on you counter for several days and quickly re-crisp up in the toaster oven before your serve for a quick minute!
You may also like --