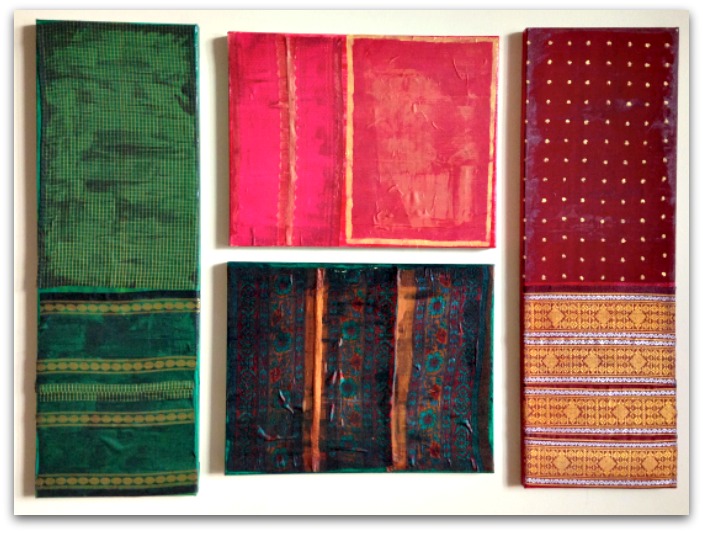 Sprucing up my living room wall décor has been on my decorating "to-do" list for quite some time now. I wanted to create something unique that would truly add a personal touch to my home. After several Google searches and rummaging through my fabric and craft closet, I was inspired to create sari wall art! I already had most of the materials and supplies; all I had to do was buy the canvas.
Quick Tip: Don't have saris on hand for this project.  Ebay is a great source of inexpensive saris for wall art or other home decor projects.
In addition to my sari remnants, I discovered that I had several sari blouse pieces that I was never going to convert into a blouse. If you are Indian, you know what I'm talking about – most saris come with extra fabric to make a custom fitted sari blouse that coordinates with your sari. These blouse pieces are embellished with the same border or zari work that's on your sari. With the fabric sprawled across the floor, I decided upon a color scheme then cut the different pieces to the appropriate size to fit the canvas to create my sari wall art.  The great thing about working with saris is that they come in so many colors and patterns.  I encourage you to take a little time to select the color scheme that makes the most sense for you.  Since I have a neutral sofa with some pops of color in my pillows, I decided to go with a vibrant array of colors.  If you have a more colorful room, you can select just one simple sari and still have the beauty of sari wall art that plays more of a background role.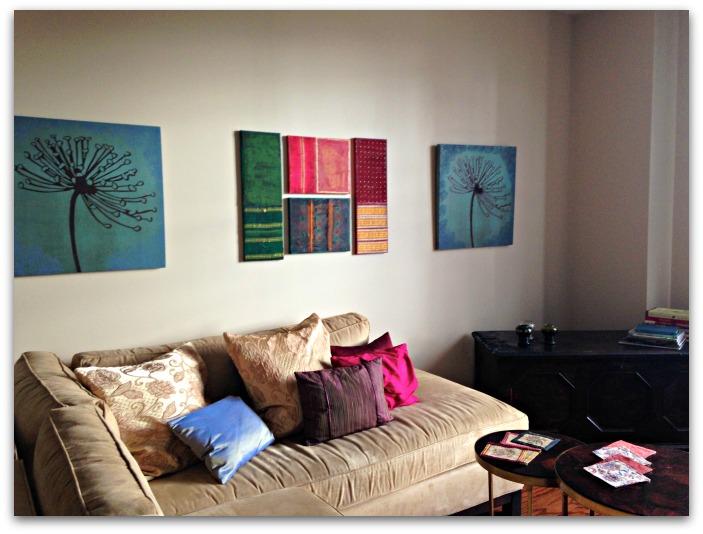 Next I painted each canvas (purchased from Dick Blick Art Supply) with a few coats of acrylic paint and let the canvas dry over night. Using a foam brush, I applied a thin coat of Mod Podge (a versatile adhesive available at most art supply shops) and carefully mounted the cut sari pieces on top of the layer of Mod Podge. This part was a bit tricky, as the fabric tends to wrinkle and bubble due to the adhesive. But don't worry if you don't get the wrinkles out – this just adds character and gives your artwork a rustic look.  Just a few supplies and a couple short steps and voila — I had the sari wall art hanging behind my sofa and gave the room a whole new look!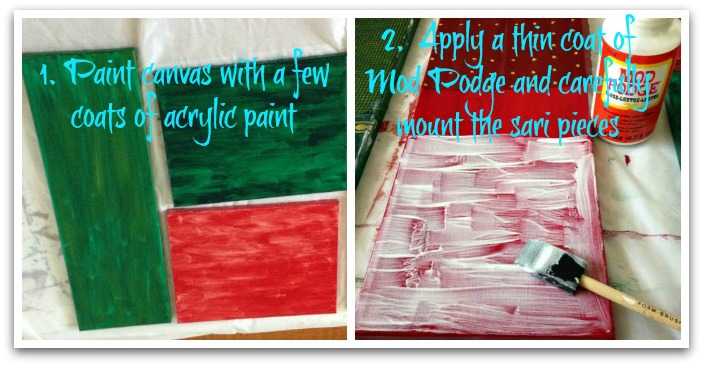 What DIY décor ideas have you worked on lately? Share it in the comments below!
You may also like --