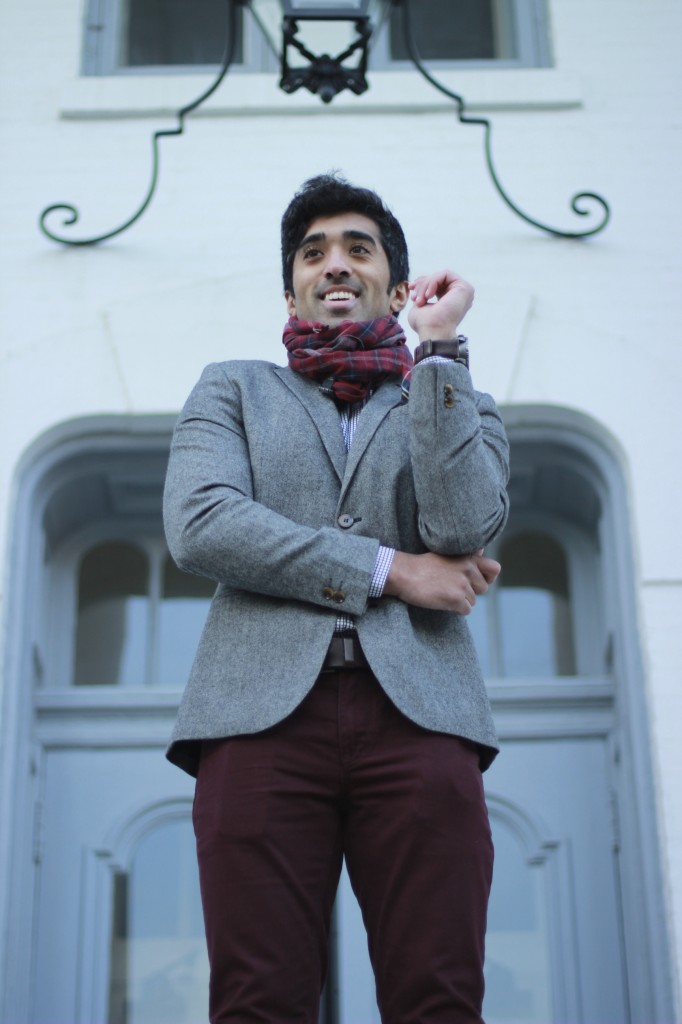 Our next Saffluence style star is also a Chicago native, like our favorite Veteran, Cecil Thomas. We think Mohammad Akhtar, also known as Mo, has great insight on the way to coordinate different fashion elements to deliver a holistic look that is versatile, yet, sophisticated. We are excited to share Mo's fabulous look and his tips for you or the guy in your life.
Mohammad Moiz Akhtar
Age: 22
Hometown: Burr Ridge, IL
Occupation:  Graduate from Loyola University of Chicago and imminent medical school student
Mo, how would you describe your sense of style?
Classy and subtle are two key ingredients that mix up my sense of style. I start with my wardrobe and let it speak for me.  I would hope that it says, "I am calm, cool, composed…. and follow a chivalrous code."
Is there anything in particular that inspires your style for the guy?
My style definitely stems from my fashion forward mother dressing me appropriately as a youngster, replicating my father's polished look. Now, I think my style is more of a modern gentleman with an edge.  Being hip is what inspires my style.
What are some of your favorite places to shop?
Nordstrom, Banana Republic, 21 men, Zara, Nordstrom Rack, H&M, Finish line are some great places to shop that carry a variety of selection, even online.
What are you wearing and where is it from?
I am wearing a grey tweed coat from H&M and a red cotton scarf from Banana Republic. The checkered oxford shirt and burgundy pants are from 21 men and the brown belt is from Zara. The Cole Haan shoes, socks and pocket square are from Nordstrom Rack. The red shoes laces are from Nordstrom and the glasses are Ray-Ban.
What is your favorite item of clothing or accessory in your closet?
I don't really have a pair of lucky socks or favorite jeans nor do I normally overemphasize material things in that manner. But If I had to choose, my favorite item of clothing in my closet would have to be either my retro Jordan IV's or Drose 3 basketball shoes.
What advice would you give to other guys looking to improve their style?
Everyone is different and has their own particular style about them that makes them unique.
Observing others and following trends that fit your persona are some great ways to amp up your style. There are definitely other guys that dress better than I – and that works with their particular style.
Always strive to be different and don't be afraid to try new things when choosing an outfit.
Accessories are key! The details are what really what separate you apart from the rest. Lapel flowers, pocket squares, and some jewelry are some small accessories that will have you looking one hundred percent every time.
Finally, contrasting colors can improve style without requiring much effort and highlight your complexion.
Mo believes that the potential of starting a new trend is endless and it can be very simple if you come  if you come up with a formula for your signature look.
The highlight of Mo's look is easily his trendy sock. As we mentioned in Playbook Rule #1: Don't Just Suit Up, Sock Up Too, "your choice of sock can say a lot about you". As a guy in his early 20s, Mo thinks it is crucial to add fun patterns and colors to an otherwise monotonous outfit.  It will pave the way for a mature sense of fashion as you evolve. We also love his pocket-square with panache.  Want the look?  Check out this free app How to Tie a Tie.
Here are some fun pocket-squares that will definitely elevate the feel of your outfit: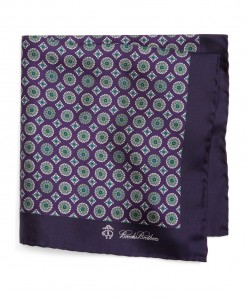 BrooksBrothers Medallion Print Pocket Square, $40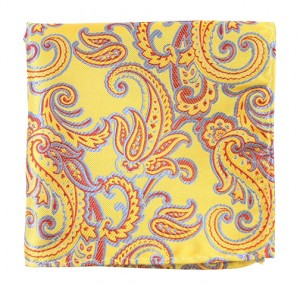 The Tie Bar Rivers Paisley – Sun Gold
We appreciate Mo's insight on style for the guy. If you would like to be featured on this series or know someone who would be a great fit, please contact us at contact@saffluence.com.
You may also like --