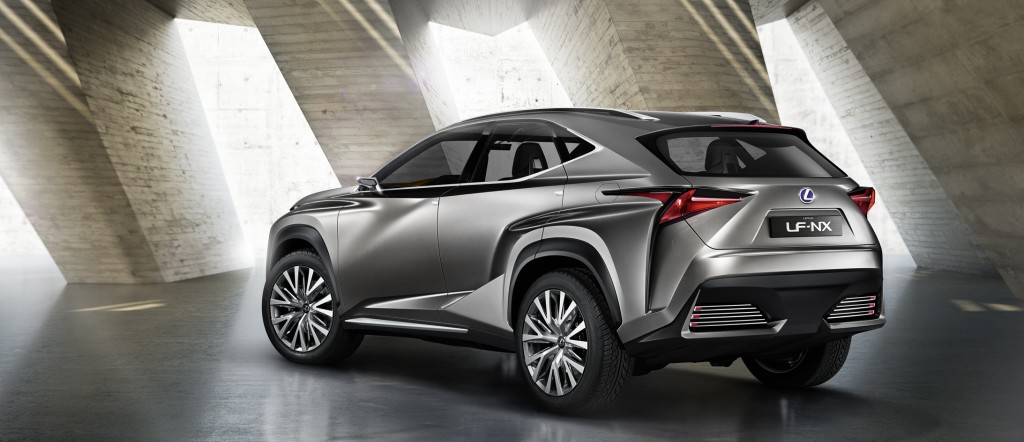 We all know how much we love our cars and how they not only fill an important need but are a huge passion!  So due to popular demand we are partnering with Fyidriving to bring you their award winning auto information.  We are excited to have Camilo Alfaro, Editor in Chief of FYIdriving and autoproyecto and his team bringing us the hottest information in new cars, news and reviews.  Thanks, Camilo!
At the Frankfurt Auto Show this past week, Lexus debuted its possible product and styling direction for their first compact crossover with the with the new LF-NX concept.  We've known that Lexus has been considering an entry into the booming class for some time, and the LF-NX is so refined that it suggests that a production version might be on the way.
The Look
Sporting more heavily-sculpted styling than the current lineup, the LF-NX also suggests that Lexus may be ready to take its new spindle grille and multi-planed "L-Finesse" design theme to more extreme places.  Powerful cuts separate the front fenders from the bumper, and LED daytime running lights are used to add to the sinister look.  A diamond-shaped beltline and steep backlight give the LF-NX a sporty look.
On the inside, Lexus has equipped the LF-NX with touch-sensitive electrostatic switches and a new remote-touch interface system.  Carved metal interior panels and yellow and black interior leather provide visual interest.
Under the Hood
We weren't surprised to hear that the Lexus LF-NX has a high efficiency hybrid powertrain.  It will likely compete with its competition while giving its owner economically fuel efficiency and low emissions.  What is not to like?
With the fantastic sales Lexus has experienced with the RX.  The likelihood of a production version of the Lexus LF-NX is not far behind.   According to Mark Templin, EVP, Lexus International , "We intend to take advantage of the growing compact crossover SUV segment and expand our SUV line-up in the future.  The new LF -NX concept explores the potential for a compact crossover within the Lexus model range. This concept is youthful, confident and innovative."  We agree and are looking forward to the production model of this cross of beauty and utility.
You may also like --