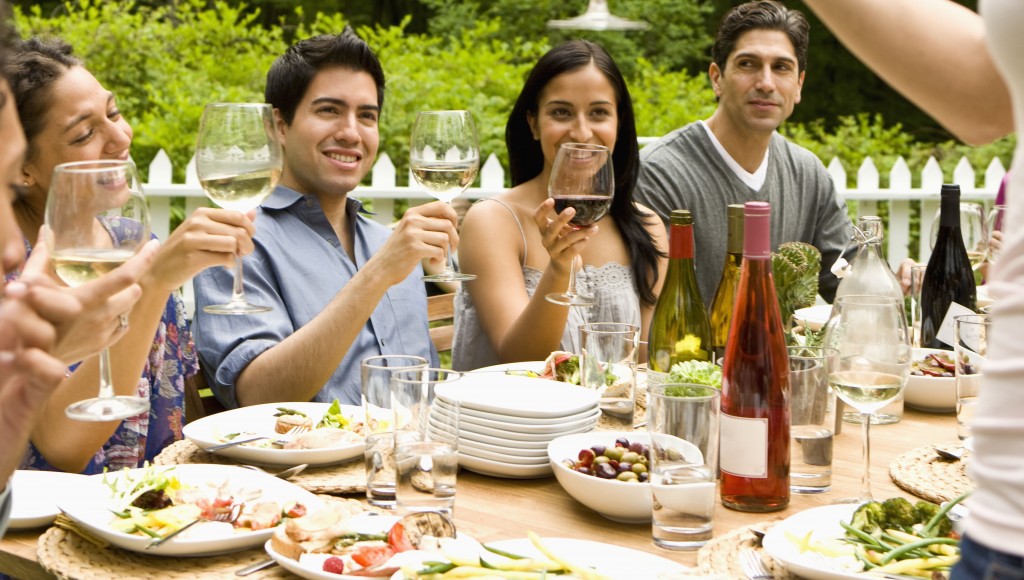 Bring on another lazy afternoon of grilling and socializing with friends and family.  As the burgers sizzle, the beers chill, and guests begin to arrive, make sure your home is welcoming for all of your friends – meat lovers and those who follow a vegetarian diet.
To temp your vegetarian friend and make them feel right at home, head to the kitchen and create a meatless barbecue meal in just a few minutes.
Vegetarian BBQ Main Dish: Grilled Portobello
We always keep a pack of veggie burgers in the freezer for just in case but it is really great to offer the option of a freshly made non-meat 'burger'. Start by gently washing a portobello mushroom cap. Remove the stem and drizzle both sides of the mushroom with extra virgin olive oil and red wine vinegar. Let the portobello marinate for a few minutes.
When placing the mushroom on the grill, put it on a clean upper rack to prevent wants meat drippings. And don't forget, please use a separate spatula to flip and serve the mushroom. After grilling, serve the mushroom burger-style with all the barbeque fixings such as shredded lettuce, onion and tomato.
Vegetarian BBQ Friendly Side Dishes
Most traditional barbeque side dishes can satisfy both meat and non-meat eaters.
A few winners?
Instead of mixing bacon bits into a Potato Salad, serve the meat in a bowl on the side.
We often serve Baked Beans for a super easy side. A savvy tip is to used canned vegetarian baked beans and mix in a big squeeze of mustard while they are simmering on the stove to make them taste homemade.
Quinoa Salad. I usually take cooked & cooled quinoa (made in my rice cooker) and toss it with some sliced olives, diced tomato, cucumbers & feta. I shake fresh lemon juice with olive oil and a squirt of mustard in a small jar until it creates a simple dressing, then toss it in and serve. Simple, delicious and packed full of protein for you vegetarian (and non-veg) guests.
Since I am South Indian, Lemon Rice is a staple at our BBQs. It goes really well with burgers, chicken and hot dogs and is a simple treat on its own.
 Mom's Lemon Rice in 5 easy steps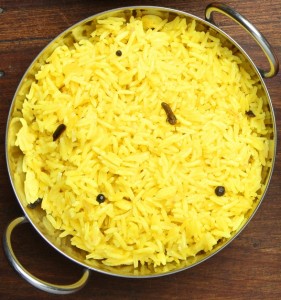 1)     Spread 4 cups cooked (and cooled) rice into a large glass baking dish. Add 1 tablespoon of salt and a half cup of lemon juice. Mix evenly.
2)     Heat 4 tablespoons of oil in a frying pan then add two dried chili peppers, 1tspn of mustard seeds and 1 teaspoon of cumin seeds, 4 tablespoons of dried channa dal (yellow split peas), 4 tablespoons of peanuts (optional).
3)     Stir for just a few minutes until the split peas are lightly brown.
4)     Turn the heat off. Add a tablespoon of turmeric powder into the pan and mix well.
5)     Pour this mixture over the rice. You can always add more lemon juice and/ or salt to your taste. Mix well and enjoy!
Vegetarian BBQ Guest — A Note About Beer
Did you know that many commercial beers are made with casin, other animal byproducts? If isinglass is listed on the beer ingredient list for instance, serve it to a meat eating friend, since isinglass comes from fish. But if the beer is flowing, a safe offering is always German beer. They have a 'purity law' called Reinheitsgbot in which the only ingredients allowed are water, barley, hops and yeast. However, for any BBQ it is always gracious to offer non-alcoholic beverages such as ice tea or homemade lemonade.
Vegetarian BBQ Friendly Sweet Treat!
Nothing tops a great barbecue meal like a sweet treat.  We do love pie & brownies (generally vegetarian friendly options). But nothing screams summer like firing up the grill to make dessert.
After scrubbing the grill clean, place halved and pitted peaches on the barbecue. The juices in the fruit will caramelize after just a few minutes. Serve the warm fruit with a drizzle of raw honey or homemade whipped cream for a healthy, yet decadent end to the meal.
Making a barbecue gathering vegetarian friendly doesn't have to be daunting. We do it all summer. When in doubt, simply ask the guest what they prefer. Move over meat. There's room for a few vegetables on the barbie.
You may also like --